Lori Brand Abend, M.D.
Integrative Medicine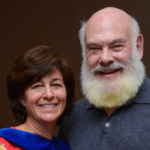 Lori Brand Abend, MD is a graduate of the Fellowship in Integrative Medicine at The University of Arizona Center for Integrative Medicine under the direction of the renowned Dr. Andrew Weil.  She has extensive knowledge and expertise in medical nutrition, mind body medicine, and the medical evidence regarding the benefits and risks of herbal remedies and supplements.  She is one of a small group of physicians to obtain board certification from the American Board of Integrative Medicine. 
Dr. Brand Abend holds dual boards certifications in Integrative Medicine and Diagnostic Radiology.  She is a graduate of Rutgers – Robert Wood Johnson Medical School.  She completed a residency in Diagnostic Radiology and a fellowship in Cross Sectional Imaging, both at Robert Wood Johnson University Hospital.  Dr. Brand Abend spent over 20 years in practice as a diagnostic Radiologist in New Jersey.   
Throughout her medical career, Dr. Brand Abend had the additional role of being the caregiver to several family members struggling with chronic illnesses.  She knows all too well that conventional medicine, while truly miraculous, often falls short in the care of chronic illness.  Her interest in nutrition, mindfulness, yoga, meditation, herbal medicine and other complementary treatments is deeply personal  – initially explored as a means to alleviate both the suffering of her loved ones and her own caregiver stress.   Once she both experienced and observed the benefits of these practices and principles, she felt compelled to pursue formal training in Integrative Medicine.  It is her hope and intention to share these benefits with her patients; empowering them with the knowledge and tools to become active participants in their health and healing.